EVENT INFO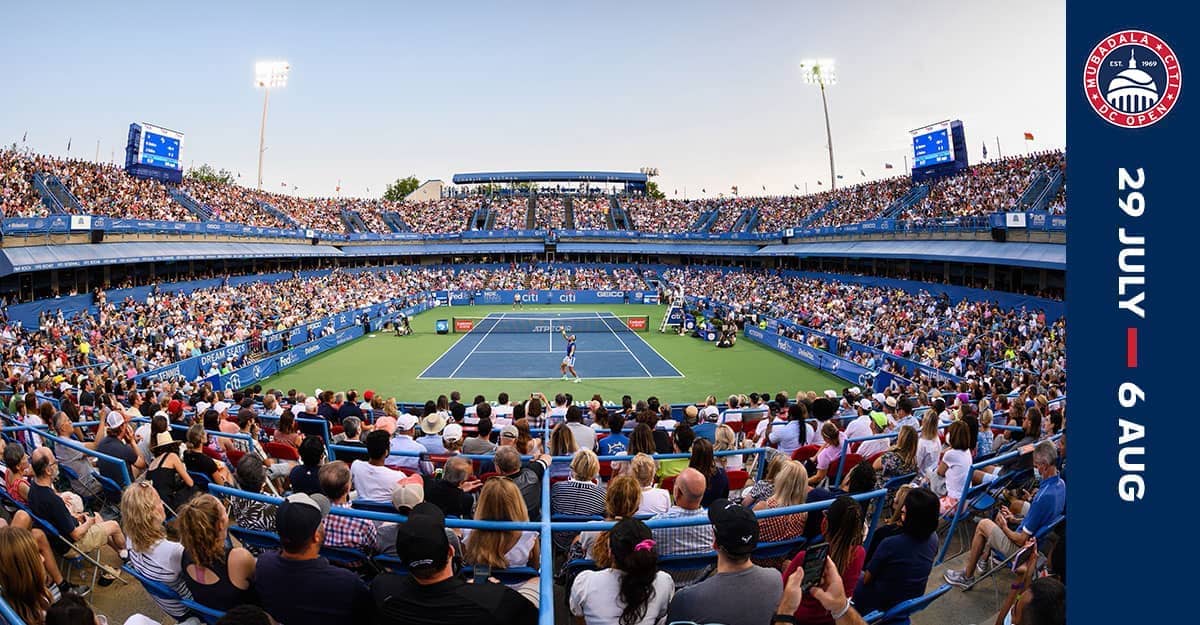 SIGN UP FOR TOURNAMENT INFORMATION & UPDATES HERE
GATES OPEN TO FANS AT 11:30AM
UPDATE FRIDAY AUG 04:
DAILY FEE ON-SITE PARKING IS SOLD OUT. All patrons with a parking pass are welcomed to park on-site. Please have your parking pass ready to show the parking attendants when you arrive.

Patrons looking for daily fee parking should proceed to Friendship Heights to one of the available parking garages and catch the shuttle to the Rock Creek Park Tennis Center.
---
Dates:
July 29 - August 6, 2023
Tournament Location:
Rock Creek Park Tennis Center
5220 16th Street NW
Washington, DC 20011
Attendance:
Over 81,000
Special Considerations:
Wheelchair and companion seating, wheelchair accessible ramps, parking spaces, and restrooms are conveniently on-site.
History of the Mubadala Citi DC Open:
Co-founded by Arthur Ashe, Donald Dell, and John A. Harris, the Mubadala Citi DC Open in Washington, DC, is one of the oldest and most prestigious tournaments in tennis and is the only combined ATP & WTA 500 tournament in the world. Held annually in Rock Creek Park since its founding, the Mubadala Citi DC Open is also the longest-running pro tennis event to be held in an equal-access public park. American Andre Agassi holds the record for most titles in the US capital, winning five (1990-91, 1995, 1998-99.) Past champions also include Ken Rosewall, Jimmy Connors, Chris Evert, Martina Navratilova, Ivan Lendl, Yannick Noah, Monica Selles, Martina Hingis, Andy Roddick, Kim Clijsters, Venus and Serena Williams, and many more.
Tournament Beneficiary:
A portion of the proceeds from the Mubadala Citi DC Open benefit the Washington Tennis & Education Foundation (WTEF). The WTEF seeks to improve the life prospects for DC area youth, particularly those from lower-income communities, through tennis, educational and community-based activities that teach discipline, build self-esteem and improve academic performance. If you are interested in learning more about how you can support the WTEF, please call (202) 291-9888 or visit www.wtef.org
Rock Creek Park Tennis Center:
Home of the WTEF & Mubadala Citi DC Open, a 7,500 seat facility which features 31 air-conditioned courtside suites. Located in beautiful Rock Creek Park, a division of the National Park Service.
ATP Fields:
Main Draw Singles Direct Acceptances: 37
Wild Cards: 5
Qualifiers: 6
Qualifying Singles Draw Direct Acceptances: 20
Wild Cards: 4
Main Draw Doubles Direct Acceptances: 10
Teams Wild Cards: 2
Teams On-site Entry: 3
Teams Qualifying: 1
WTA Fields:
Main Draw Singles Direct Acceptances: 23
Wild Cards: 4
Qualifiers: 4
Qualifying Singles Draw Direct Acceptances: 14
Wild Cards: 2
Main Draw Doubles Direct Acceptances: 11
Teams Wild Cards: 2
Teams On-site Entry: 3