FREQUENTLY ASKED QUESTIONS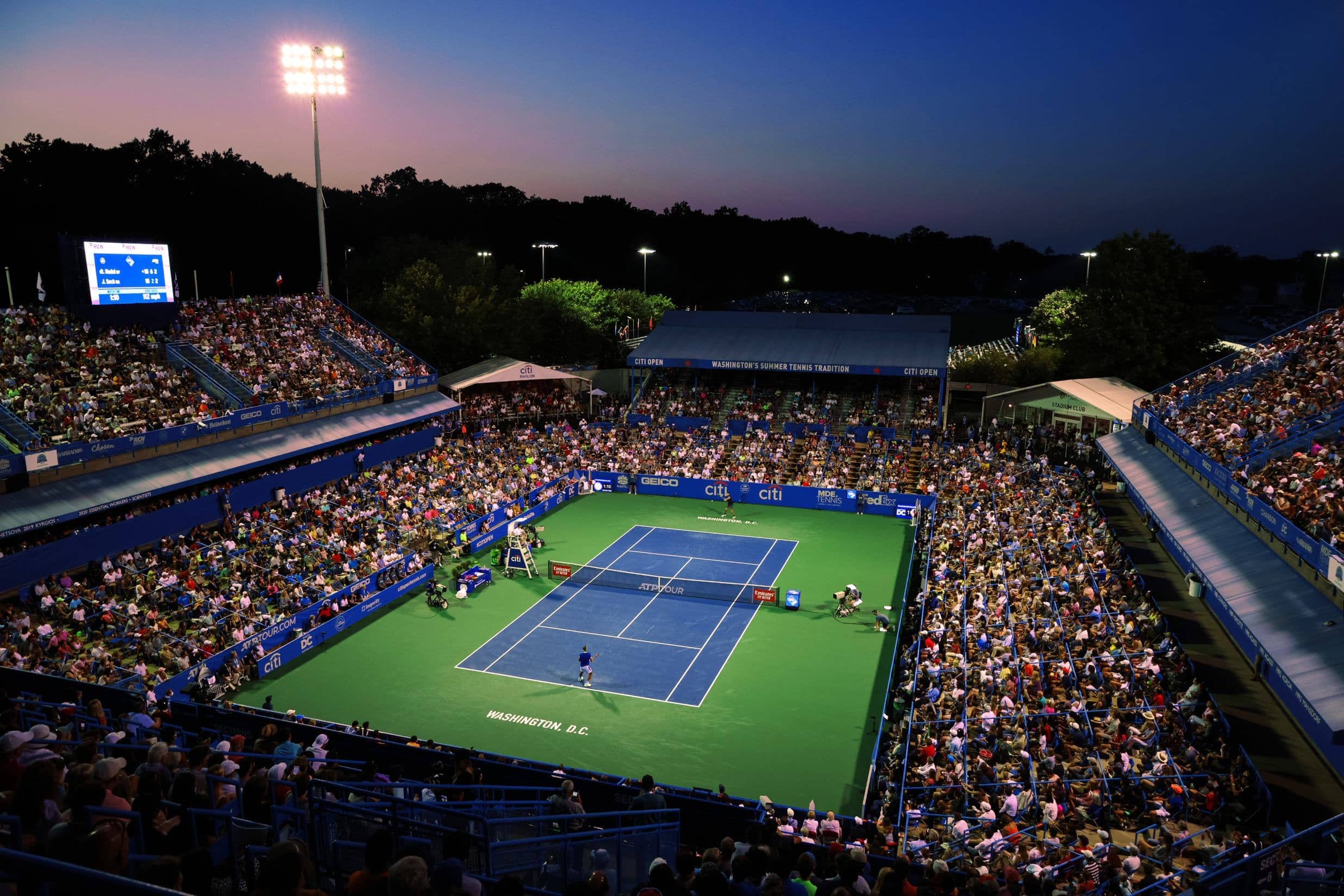 QUESTIONS AND ANSWERS
Where is the Mubadala Citi DC Open?
The tournament will be held at the Rock Creek Park Tennis Center at 16th & Kennedy Streets, NW, in Washington, DC, a permanent stadium (capacity: 7,500) that is also the year-round home of the Washington Tennis & Education Foundation.

Physical Address (GPS): 5220 16th NW Washington, D.C. 20011
What time are fans allowed to enter the stadium?
The gates at Rock Creek Tennis Center will be open to fans at 11:30 am every morning. Please note that on Friday August 04, and Saturday, August 05, fans who have tickets to the sessions later in the day (Sessions 8 & 10), will be asked to enter at 4:00 pm.
For any additional questions about timing for each session, please visit the Match Schedule Page.
What are driving directions to the stadium?

From Downtown Washington:
Take 16th Street, NW north for four (4) miles. The Rock Creek Park Tennis Center will be on the left.

From I-495:
Take I-495 Exit 31/Georgia Avenue south toward Silver Spring. Stay in the right lane for approximately 1/4 mile, then bear right onto 16th Street (Route 390). After approximately three (3) miles, the Rock Creek Park Tennis Center will be on the right. Then follow the instructions provided by the parking staff.

Parking:
Parking is open for fans to enter at 11:00 am daily. There is limited daily onsite parking for fans without a parking pass.

For more parking information please review our Parking Page.
By Metro, what stop do you get off to catch the shuttle?

Friendship Heights Metro stop.
Where and when does the shuttle bus arrive?
Fans are able to access the free shuttle bus from the Friendship Heights Metro station. The shuttle service will pick up, and drop off, on Friendship Blvd near Bloomingdales, within one block of the Friendship Heights Station. The shuttle starts every day at 12:00 pm. If you arrive before then, plan on taking rideshare, taxi, or metro bus.
For any other questions please visit the Parking Page.
Can I buy tickets at the box office the day of the event?

Many sessions sell-out, so we advise purchasing in advance. Please follow the Single Session page for updates on daily ticket availability during the event.
Where is the box office located?

The box office is located at the Main entrance on the North end of the site, closest to the grass lot.
Do children need tickets?

Children 2 and under do not need a ticket, if they do not occupy a seat (i.e. they must sit on your lap)
Can I buy box seats to just one session?

If there are Box Seats still available that have not been sold as a package for the entire week, they will be available for purchase on a single-session basis starting May 16. Single-session reserved tickets, single-session Box Seats tickets will be sold through our website and at the on-site box office.
Is the stadium handicap accessible?

Yes. There are four (4) handicap-seating areas located in the lower level of the stadium. There is also handicap parking available on-site with state-issued plates or permits, as well as wheelchair ramps and wheelchair accessible restrooms located around the stadium.
How do you obtain handicapped seating tickets

For accessible seating options, please contact a ticket representative at [email protected] or call 202.721.9500.
Do my tickets grant me access to all matches outside of the Stadium?

Yes. Your tickets guarantee you a reserved seat in the stadium as well as access to all outer courts. Outer court seating is on a first come, first served basis. Your ticket includes all ATP and WTA matches.
What sections have covering?

North Covered Box Seats and Stadium Pavilion are the only covered sections in Stadium Court, in addition to Hospitality Suites.
What bags are permitted in the stadium?

We are enforcing a clear bag policy for the 2023 Mubadala Citi DC Open. Lockers will be available out front should you need to store a bag before entering.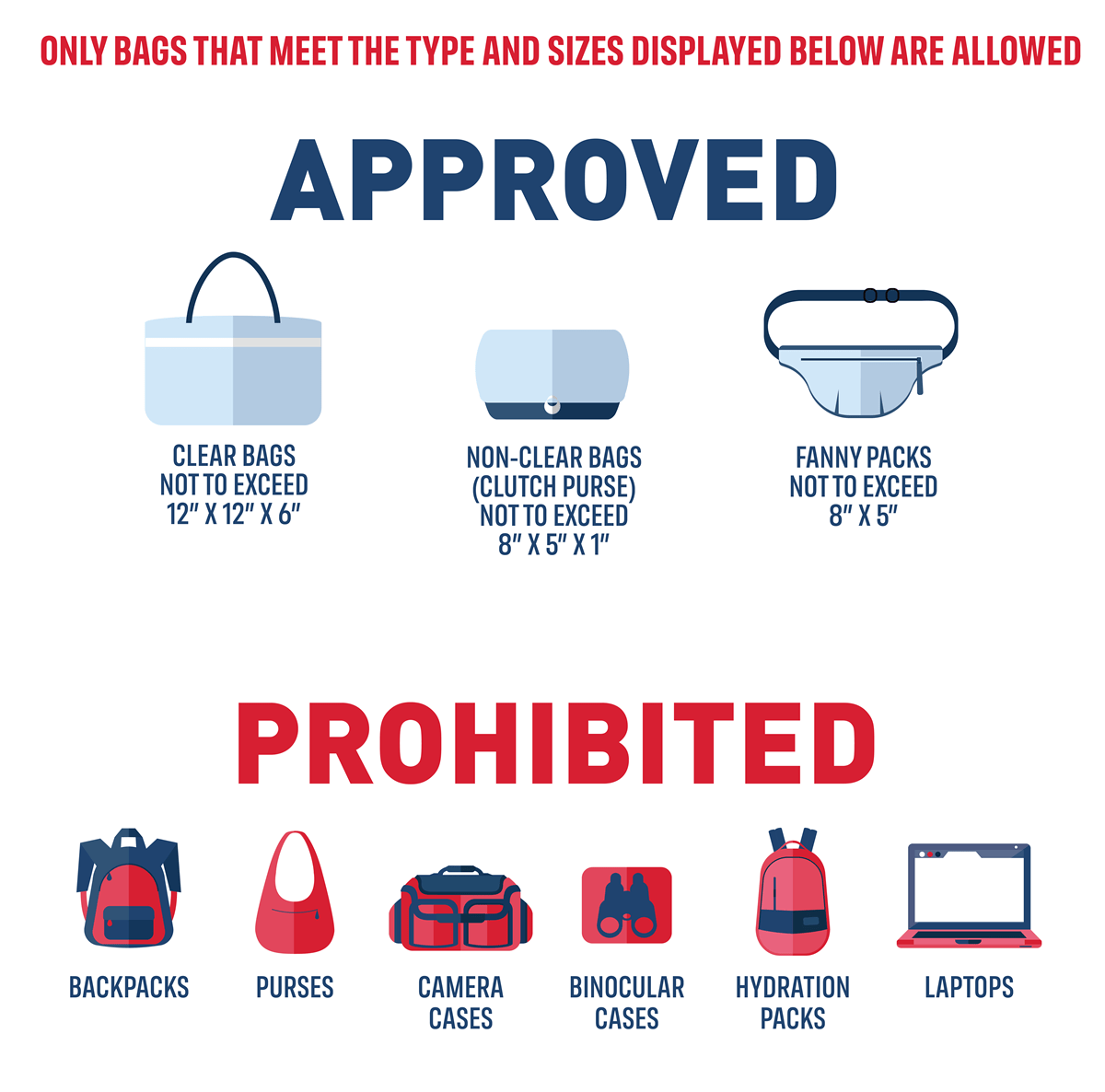 Are backpacks allowed?

Backpacks are NOT permitted on-site. Please review our Safety Policies for additional information.
Is there anywhere to check luggage for the day at the event?

Yes, we are available to check luggage at the stadium.
What happens if it rains?

Rain Policy: No refunds, exchanges, or rain checks. All sales are final. When you purchase a ticket, you assume the risk of weather-related cancellation or postponement.
Are there restaurants, food/drink stands on-site?

Yes, we are thrilled to provide a world-class culinary experience to our patrons. Fans are not permitted to bring outside food or beverage into the stadium.
Are personal water bottles allowed? Also are refreshments of any type available for sale? If so, where?

One (1) unopened see-through plastic bottle of water per person up to 33.5 ounces / 1 liter. If not see-through, one empty water container up to 33.5 / 1 liter. Food and refreshments are available for purchase. Concessions are stationed throughout the site, as well our Market Square being home to our prominent food options.
How can I watch the Mubadala Citi DC Open on TV?

Watch Tennis Channel and TC Plus for LIVE & REPLAY streaming and television coverage of the 2023 Mubadala Citi DC Open!
Why are the Mubadala Citi DC Open's Men's and Women's prize money and Stadium Court schedules not equivalent to each other?

The Mubadala Citi DC Open is the world's only combined ATP and WTA 500-level event. We are proud to host both a men's and women's tournament simultaneously at the Rock Creek Park Tennis Center. The ATP (the men's tennis international governing body) and the WTA (the women's international governing body) are two separate tours with distinct tournament structures, calendars, and funding models.This results in the difference in prize money and international television coverage, which is among the considerations that dictate court schedules. .
Is Mubadala Citi DC Open merchandise available anywhere besides the stadium shop?

Visit our online merchandise store for official Mubadala Citi DC Open gear HERE
Are laptops allowed at Mubadala Citi DC Open?

No laptops are not permitted.
Can I bring my camera?

Yes, you may bring a camera however, you are not permitted to bring a tripod or any additional camera equipment. Fans are not permitted to use their camera for flash photography during matches.
Can I ride my bicycle here? Where can I lock my bicycle?

Proceed to the Carter-Baron amphitheater/recreation center to locate the Bicycle Rack near the Main Entrance @ North gate near Lot B, on Kennedy Street.
I have Handicap or accessibility needs, what is the best way for me to access the event such as parking and entrances?

For more accessibility information, call the tournament office at 202-250-8502.
LOST and FOUND is available onsite and after the event.
Contact (202) 250-8502 or (202) 721-9500.