TICKET POLICY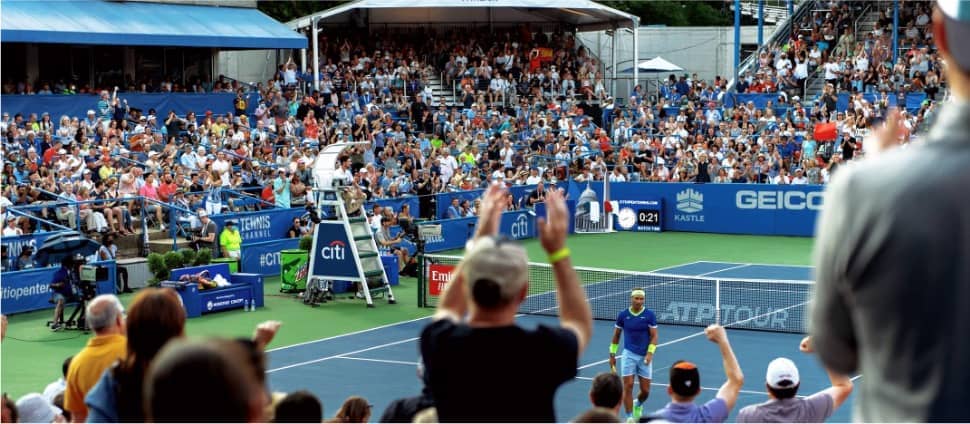 IF YOU HAVE ANY QUESTIONS, PLEASE CONTACT A TICKET REPRESENTATIVE
VIA EMAIL AT [email protected]
Ticket Terms and Conditions:
All sales are final. No refunds or exchanges.
Player field subject to change due to injury or other unforeseen circumstances.
Match times and schedule are subject to change.
Speed lines for those fans without bags will be available at both north and south gates.
There will be a limit of one bag per person admitted into the Rock Creek Park Tennis Center.
All bags are subject to a complete and thorough search. VIEW DETAILS HERE
The Rock Creek Park Tennis Center will not provide a storage area for these items.
Please be conscious of your bags at all times and do not leave them unattended. Any unattended bags will be removed.
Smoking is not permitted in the stadium, all match and practice courts, suites, restrooms, food and beverage areas or any temporary facilities.
The continual use of laptop computers or other handheld electronic devices within the confines (spectator area) of the Tournament match courts is prohibited. The exception to this provision is properly credentialed media, Tournament vendors and Tournament staff when used in the performance of their duties.
No ticket holder may continually collect, disseminate, transmit, publish or release from the grounds of the Tournament any match scores or related statistical data during match play (from the commencement of a match through its conclusion for any commercial or gambling purposes).
Flash photography is prohibited during matches (unless approved in advance by Tournament Officials).
Mobile phones must be turned off or silent during matches.
Spectator movement on the lower level during matches is allowed only during changeover.
Please report any unruly and/or suspicious behavior or security issues to a Tournament Management and/or security officials.
Tournament officials reserve the right to implement any security measures deemed necessary (i.e. disruptive or abusive behavior, etc.)
Please respect your fellow ticket buyers and sit in your assigned seats. Seat assignment will be enforced.
Rain Policy:
No refunds, exchanges, or rain checks. All sales are final. By purchasing a ticket you assume the risk of weather-related cancellation or postponement. One completed match on the Stadium court will constitute a complete session.