2023 FULL-TOURNAMENT PACKAGES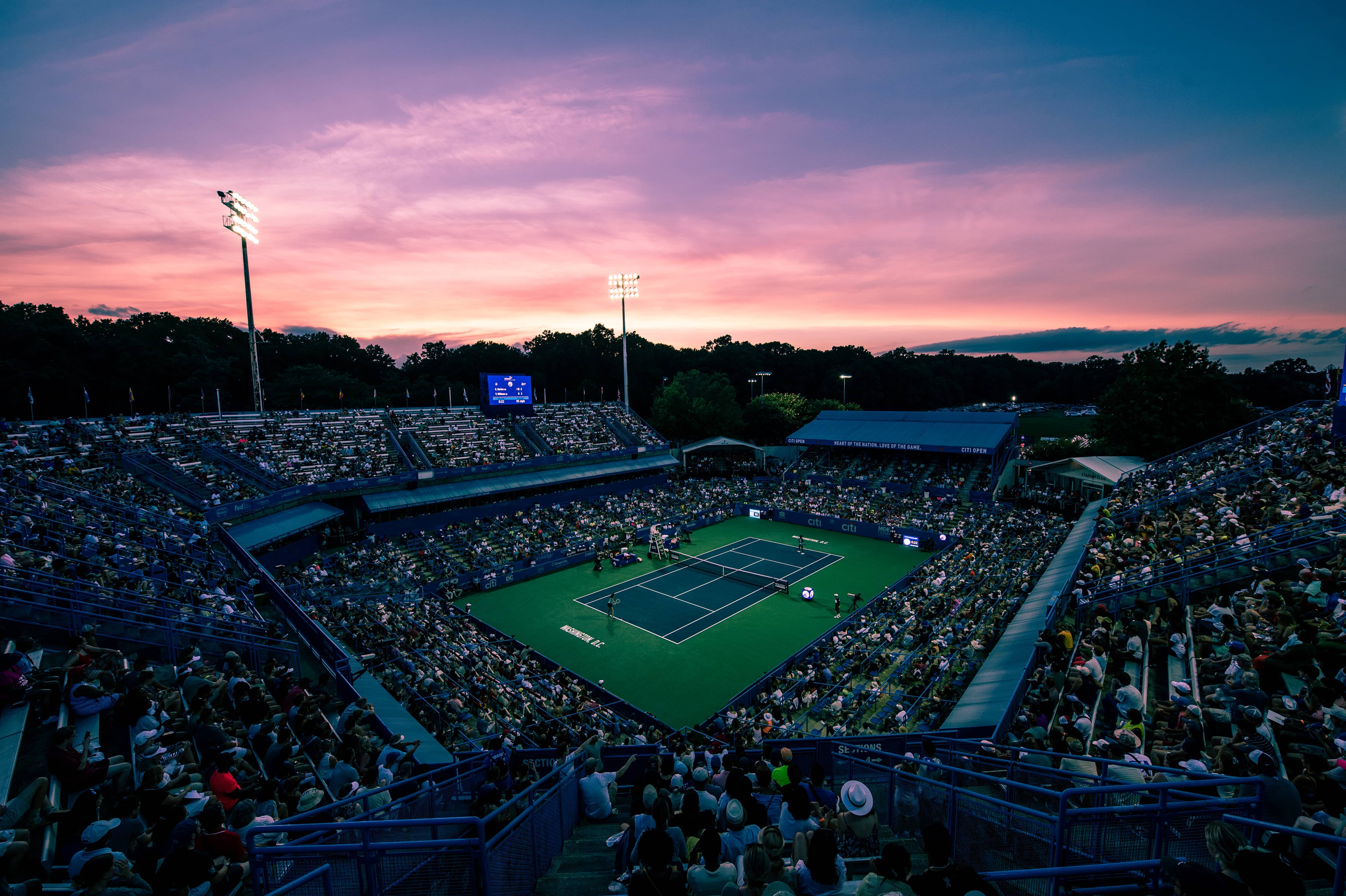 Click HERE to purchase your full tournament ticket package
2023 Mubadala Citi DC Open full series tickets grant you access to all sessions of the 2023 tournament as well as certain benefits and amenities depending on the ticket category purchased. The options listed below detail what each full tournament ticket package includes. Also included below is a color-coded seating map to help identify the locations of each seating category.

If you have any questions, please email [email protected] or call 202-721-9500.

Note – these are full tournament ticket packages only and do not apply to single session tickets. Also note the price for each category of tickets does not include sales tax, which will be added to the final total of each purchase. PLATINUM BOX SEATS - $1,700 - *NOT CURRENTLY AVAILABLE*
$155/Session
Best seats in the Lower Bowl
Courtside seating in rows 1-6 along the Lower Bowl North & South Baselines (Aisles 14-17, Aisles 36-39)
Complimentary name recognition sign on box
Complimentary weeklong parking
PREMIUM COURTSIDE BOX SEATS - $1,350
$123/Session
Courtside seating in rows 1-4 of the Lower Bowl (Aisles 40-13, Aisles 18-35)
Complimentary weeklong parking
COURTSIDE BOX - $1000
$91/Session
Courtside seating in rows 5-10 of the Lower Bowl (Blue Section on Lower Bowl Seating Chart)
Complimentary Weeklong Parking
NORTH COVERED BOX - $975 - *NOT CURRENTLY AVAILABLE*
$89/Session
Seating under the awning at the North Baseline
Exclusive access to Grandstand Viewing Deck (Restricted ONLY to seats located in the North Covered Box and North Covered Reserved)
Complimentary weeklong parking
STADIUM PAVILION - $875
$80/Session
Take in the world-class tennis competition from the corner baseline in the lower bowl and enjoy exclusive access to full shade seating with new spacious and comfortable chairback seats
Food and beverage offerings are also conveniently located nearby, so you can enjoy delicious refreshments while you watch on-court action.
Only one fully-shaded seating currently available
NORTH COVERED RESERVED - $750 - *NOT CURRENTLY AVAILABLE*
$69/Session
Least expensive lower level weeklong seating option!
Bench seating located in the first four rows in front of the North Covered Box seat section
Exclusive access to Grandstand Viewing Deck (Restricted ONLY to seats located in the North Covered Box and North Covered Reserved)
Complimentary weeklong parking
PREMIUM BASELINE RESERVED - $575 - *NOT CURRENTLY AVAILABLE*
$53/Session
Baseline chair-back seating in the best seats in 2nd Tier
Easy access to the South Grandstand viewing Terrace that overlooks three courts
2nd Tier seating located in rows 1-8 at the south end of the stadium
SECOND TIER RESERVED - $495
$45/Session
First choice of the best available seats in the Upper Bowl
Significant discount compared to single session purchase
Access to matches on all courts
VALUE RESERVED - $325
$30/Session
Most affordable full series option
Access to matches on all courts
IF YOU HAVE ANY QUESTIONS, PLEASE CONTACT A TICKET REPRESENTATIVE AT 202.721.9500 OR EMAIL [email protected]